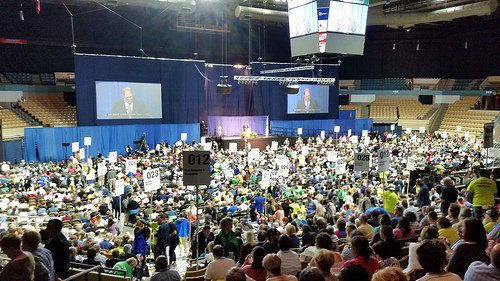 What happens at the Massachusetts Democratic Convention? Can anyone attend? What is a caucus? These are questions I asked myself before I became a member of the Lowell Democratic City Committee. I still have some questions, but I have now attended several conventions and generally understand how it works.
This year's State Convention in June is a nominating convention, meaning there are several statewide offices that candidates will be running for. And while the Democratic candidates that make it to the final ballot will be decided by a primary election in September, one Democratic candidate will earn the endorsement of the Party at the convention in June.
Who's Running for Statewide Office?
Elizabeth Warren is running for a second term as senior U.S. Senator from Massachusetts. As of now there is no other Democrat running for this seat.
Jay Gonzalez, Bob Massie and Setti Warren are all running as Democrats for Governor of the Commonwealth, and one of them will ultimately be chosen to run against Governor Baker.
Quentin Palfrey and Jimmy Tingle are running for Lt. Governor, and one of them will share the ticket with whoever becomes the Democratic candidate for Governor.
William Galvin is running to keep his seat as Secretary of State. He is being challenged by Democrat Josh Zakim, a Boston City Councilor.
Attorney General Maura Healey is running for a second term and Massachusetts Attorney General. At this time there is no other Democratic candidate.
Massachusetts State Treasurer Deb Goldberg is running for reelection. There is no Democratic challenger at this time.
Massachusetts State Auditor Suzanne Bump is also running for reelection without a Democratic challenger at this time.
What's a Caucus?
On February 3, 2018, the Lowell Democratic City Committee will hold a caucus. It will take place at the Freshman Academy cafeteria, 40 Paige Street, at 1:00. At this caucus, delegates and alternates will be elected to attend the convention for the purpose of voting to support their selected candidates. Any registered Democrat can attend the caucus and run for a delegate spot at the convention or to vote for someone else to have a delegate spot at the convention.
You'll need to know in which Ward you are registered to vote, although if you don't know, we will be able to find that information for you. Each of Lowell's eleven wards will be allowed a predetermined number of delegates and alternates—this allowance is determined ahead of time by the Massachusetts State Democratic Committee. You show up at the caucus, check in, then find the table where your ward is meeting. If you want to run as a delegate or alternate, you'll need to sign in stating same. You'll need to be nominated to get on the ballot. You can ask someone to nominate you, or you can nominate yourself. You will be given a minute or so to introduce yourself and say why you want to be a delegate. All registered Democrats from you ward in attendance will vote on each nominated candidate. And thus each ward will choose its allotted number of delegates.
Why Should I Attend?
Because this is a nominating convention, there will be competition for delegate spots. Candidates who hope to be on the ballot already have people working on their campaigns who are actively seeking registered Democrats in all wards to run as delegates for the purpose of getting their candidate as many votes as possible at the June convention. Even if you do not want to run as a delegate, you can help decide who will represent your interests at the convention.
Attending the caucus is a great way to see firsthand how this aspect of party politics works and by participating you can have more of a voice in who gets elected. We hope to see you on February 3.
Judith Durant, Chair, Lowell Democratic City Committee